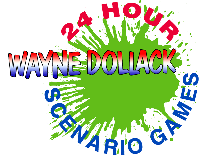 Closed Until Further Notice
---
This has been a tough decision to make but we feel we must close our doors until we are sure that the Corona Virus Pandemic has passed and that it is safe for our staff and patrons to return to Wayne's World. Until that time, we hope that you, your family, and friends remain safe. We look forward to the day we can all come out on the other side of this terrible event.
View Videos of Past Events at RagTopVideo.com
Paintballs can be toxic to dogs!
********************
Paintball's Grand Finale
Battle for Mandalore
24 Hour Role Playing Scenario Game
December 4, 5, and 6, 2020
*********************
Minimum age on the field - 10 years old

For more information call 352-401-1801 or e-mail wd24hour@atlantic.net
More Information about Scenario Games please
visit Steve Cranmer's Scenario FAQs
Read our Scenario Game Rules of Play Game Booklet
Printable Version of ScenarioRules
Due to insurance regulations: Absolutely no fill-stations of any type will be permitted on the premises.
Return To WAYNE'S WORLD Home Page