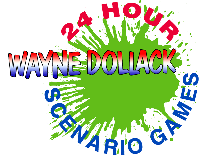 View Videos of Past Events at RagTopVideo.com
Please help us support Our Sponsors
Paintballs can be toxic to dogs!
Calendar of Events - 2013
Minimum age on the field - 10 years old
First Strike/Second Strike
The Hatfields vs. The McCoys
2 8-Hour Role Playing Scenario Games
July 13 and 14
Flight of the Phoenix
24 Hour Role Playing Scenario Game
Seprember 21 and 22
Paintball's Grand Finale
Mech Wars
24 Hour Role Playing Scenario Game
December 6, 7 and 8


For more information call 352-401-1801 or e-mail wd24hour@atlantic.net
More Information about Scenario Games please
visit Steve Cranmer's Scenario FAQs
Read our Scenario Game Rules of Play Game Booklet
Printable Version of ScenarioRules
Due to insurance regulations: Absolutely no fill-stations of any type will be permitted on the premises.
Return To WAYNE'S WORLD Home Page